I realized several years ago that Point Lookout is the center of the universe. No matter where I went throughout life all roads seemed to lead back to my birthplace. There would be the occasional, "Oh, Point Lookout, I know where that is" or "Yeah, I've been there, what's the name of that bar, Chico something?" and I'd politely smile as they'd say "I didn't realize people lived there in the winter time." I learned to graciously accept my place as a small town girl and to expand my geographical repertoire, as my acquaintances and radius to Point Lookout grew. I found I had developed a standard dialogue to the much asked question,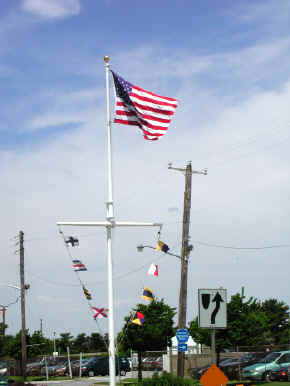 " where are you from?". To the inquisitive Long Islander: "Point lookout is right next to Long Beach on the South Shore near Jones Beach…that's right Lifeguard night…Malibu…right". To the neophyte Manhattanite: "…South shore of Long Island, about 50 min. from the city, no, no it's not the Hamptons (Thank God)". To the international set: "…It's a quaint little town in New York on the South Shore of Long Island, you can actually see it flying back from Europe as the plane prepares its final descent into Kennedy." When my job once took me to the Far East I found this put to the ultimate test. Over dinner one night a colleague's friend asked where I was from and as I began to explain the flight pattern over JFK he interrupted me to ask if I had a brother named Kevin. He proceeded to engage the table in a hilarious story of coming to my house, meeting my mother as well as a cast of Point Lookout characters that will remain forever in his memory.
I'm not quite sure when the actual realization that Point Lookout is the center of the universe set in for me, but I know that my husband started to pay attention to my ramblings when on our honeymoon in Hawaii we bumped into a neighbor from Freeport Avenue.
From that day on I think my husband, a Jerseyite, started to understand my theory, but struggled harder with understanding my passion for the place. Initially to him it was a town, just like any other. To me it's a town where the deli still knows how my mother took her coffee (light no sugar), where half the library books in the library still have her name signed in the back and where our charge account at the drug store still exists despite the fact that we haven't owned a house there in five years. It's people who come together in good times and in bad that have grown to become family even when I'm very far away summering with the in-laws in New Jersey. My husband and I had made a joint decision to try out the Jersey Shore to which some Pt. Lookouters quipped "…but you have to get up and move your beach chair down there to follow the sun?!" Despite the inconvenience, we proceeded. It's beautiful down there but I sometimes found my mind wondering to my two sons who would be fourth generation in the Point if we were there. I wondered if they'd ever play Little League as their uncles and even their mother had done. I wondered if they'd suffer not knowing the magic word known to all children in Pt. Lookout in search of a treat "MARYBETH" and I wondered if I'd ever have the opportunity to console them when they came in 4th place with twenty other kids during the running races as so many parents had done throughout the years.
Despite not fully understanding it, my husband has for the most part accepted my passion for this special place. We recently purchased a house two doors down from my brother. As the old saying goes when children go off to marry, "a son is a son till he marries a wife a daughter is a daughter for the rest of your life." I guess I consider myself somewhat of a daughter of Point Lookout. People have called it an emotional purchase. Well, call it what you may, just please don't call my husband Mr. McGrath if you pass him in the street. Although, I think he's coming around to my theory, time will tell.
At a recent business function of my husbands in Manhattan, I think it hit home for him. As he introduced me to several business colleagues, we learned that the coworker seated next to me had a grandmother who lives on Inwood Ave. A senior, initially intimidating manager broke the ice by revealing that at one time he had owned "that commercial property with the pizza parlor on it" and as I made my way to the ladies room I could hear someone approaching my husband saying "I'm so and so… Congratulations, I heard you bought Johnny MacDonald's house!"
I turned and saw my husbands look of surprise. As he caught my eye I swear for a fleeting second I saw a glimpse of that passion as he responded "Yep, Point Lookout is the center of the universe."